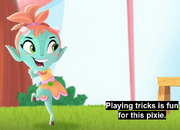 Pixies are a type of magical species in the show.
Known Pixies
Trivia
The appearance of having hooves might be inspired by the iconography of the fairy Puck, also known as Robin Goodfellow.

The word "pixie" is supposedly derived from "Puck".

The blue color is likely a reference to the Pict, a tribe of people who would wear blue face paint, another possible origin of the word "pixie".