Blaine is a character from Nella the Princess Knight. He's eleven years old?citation needed
Biography
Edit
Background
Edit
Personality
Edit
Blaine is a sometimes bossy/mean knight.
He claims that he is the best at everything he does. Quite often, his ego causes trouble for himself, nd he must ask for help. Sometimes he thinks he can do lots of things better than anyone else. He also sometimes thinks of Nella as his rival.
Powers, Skills, and Abilities
Edit
Paraphernalia
Edit
Equipments
Transportation
Weapons
Appearance
Edit
He has blonde hair
Appearances
Edit
Season One
Season Two
In Other Media
Edit
Relationship
Edit
Family and Friends
Enemies
References
Edit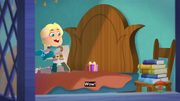 In The Tooth Fairy Tale when he receives his gift, his bed can be seen with a chair next to his bed with a stack of five thick books on it.
Community content is available under
CC-BY-SA
unless otherwise noted.